Our boat building workshops in Berlin last 5 days; Our big workshop is situated directly at the river Spree. So after building your boat you can imediately try it out in front of the house;
In our boat building course you will build your double paddle canoe, kayak or canadian canoe with the boat developer Nikola Raspopovic. The single seater, double- or triple-seater will be customized; You don´t need any special knowledge or skills in boat building to attend the workshop;
Fore more information about our canoe building workshops please write us: info@urbanindian.org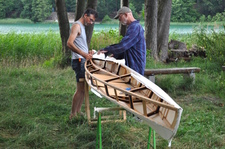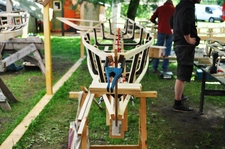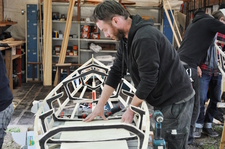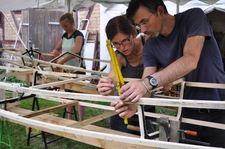 Boat building workshops in the middle of nature and water 2021
| | |
| --- | --- |
| 01. - 07. of May 2021 | Fleether Mühle |
| 01. - 07. of July 2021 | Fleether Mühle |
| 09. - 11. of July 2021 | UrbanIndian boat gathering at Fleether Mühle |
| 02. - 08. of August 2021 | Fleether Mühle |
In sommer 2021 we will return with canoe building courses at lakes and rivers in Germany; Here are the new workshop dates for Fleether Mühle! In every course we are building maximum 5 canoes and kayaks. 
These workshops last 7 days. Besides building you will find enough time for walks, swimming and sitting at the open fire.  For more information and (early!) booking please contact us: info@urbanindian.org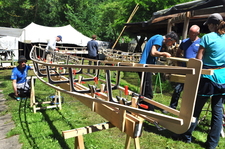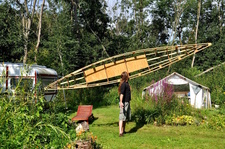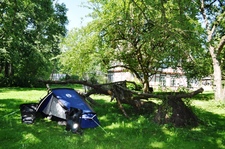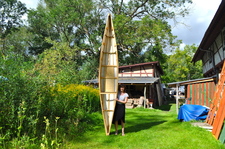 Canoes and kayaks and their prices in boat building workshops 2021
The boat building workshops in Berlin take 5 days to complete. The above prices include all materials needed for the boat building workshop and of course your new canoe, which you take home! Please note that in Berlin workshops at KAOS there is an extra daily fee of 10,00 € per person for the usage of the premises.
Our boat models can be custom adapted to suit the personal needs of a participant. If you are interested in doing a boat building workshop, simply contact us per e-mail or mobile phone.
All boats built in our workshops are 100% biodegradable and can last a lifetime with an easy and proper maintenance!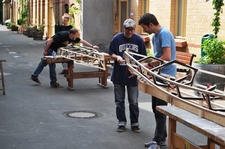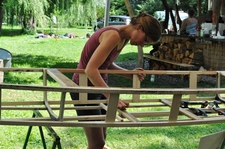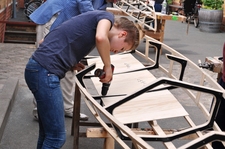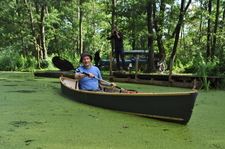 The building technique is called "Skin on Frame" (SOF) . This means that first a wooden frame, a sort of skeleton, is built and then a "skin" (in our case cotton) is stretched and fastened on it. The cotton is then made waterproof by means of the special, ambient friendly paint.
Almost all wooden pieces and parts for the frame are handcrafted by the participants during the workshop. By the end of the third day the frame is completed and oiled with linseed oil.
On the fourth day we stretch the "skin" over the frame and fix it with staples. That done, we paint the boat with the special paint in two coats. The first coat consists of a half-half mixture of water and paint which makes it penetrate the cotton. The second coat is pure paint, quite thick, and makes the cotton skin 100% waterproof. On the fifth day, after the paint is dry, the last details and "fine tuning" are taken care of and the boat is ready for its maiden trip.
Check out our different boat models here.